Take Part In Our PAWRS Driving Challenge
& Fundraise For Cancer Research UK–
Stand M35

As part of our ongoing fundraising for Cancer Research UK, we're hosting a RVS RCV Driving Challenge at PAWRS. This unique challenge invites visitors to manoeuvre a brand new custom-made remote control RCV around a special circuit, in return for a small donation to Cancer Research. The person who completes the circuit in the quickest time will win a Kindle Fire.

Spencer Law, Managing Director, RVS said: "We have been looking for a fun, relevant way to raise money for our chosen charity and we think we have found just that. I'm sure it will be a big hit with our waste management colleagues and visitors to the show. The vehicle is a fully operational replica of the real thing and we will be expecting participants to perform some complicated manoeuvres! The RCV Driving Challenge will be held at all the shows we are attending this summer and we hope to raise lots of money."

The remote control RCV, which measures 70cm x 23cm, is modelled on a Dennis Eagle Elite 2 6 x 4 Dennis cab with Olympus body and fully functioning Beta 2 bin lift. To kick-start the fundraising, Dennis Eagle will be making the first charity donation.

If you're not visiting PAWRS and would like to support our fundraising for Cancer Research UK, you can also make a donation via www.justgiving.com/RVSRCVDrivingChallenge. For further information visit our Facebook page.





We will also be showing three vehicles to demonstrate the quality of the workmanship involved in creating an RVS truck: a brand new Euro 5 Dennis Elite 2 with a re-manufactured Phoenix 2 body; a used 2005 Dennis Elite 2 with a Phoenix 2 body, which is the ideal option for users who want to source a spare vehicle, and for comparison purposes an unmodified 26 tonne 6x4 Dennis Elite 2 with Phoenix body. The new Euro 5 Dennis Elite 2 with remanufactured body and the quality used 2005 Dennis Elite 2 vehicle are available with a choice of bin lift and both will be on sale at the show.

For more information visit us at Stand M35 between the 11th and 13th of June.

And finally...

RVS are sponsoring this year's Municipal Vehicle Rental Company of The Year Award, which will be presented at the PAWRS Awards Gala Dinner taking place on 12th June at the Riviera International Centre in Paignton. Good luck to all those shortlisted!



Contact RVS

If you need a vehicle to cover any shortfall in capacity, purchasing a re-manufactured or quality used vehicle can be a much more cost efficient solution. Call us to find out if we have any suitable vehicles in stock.




c

all:

01453 899131


email:

info@rvsl.co.uk


visit: www.refusevehiclesolutions.co.uk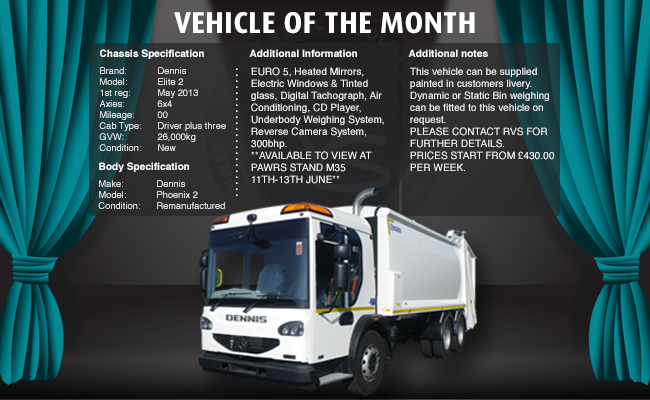 For Sale
Click images for more details
Refuse Vehicle Solutions (RVS) is the leading provider of high quality re-manufactured refuse vehicles to local authorities and the private sector. From full or partial body re-manufacturing to the provision of a complete vehicle, RVS can source any make or model of refuse vehicle. RVS stocks a comprehensive range of new and quality used spare parts, as well as vehicle safety equipment, lighting and on-board weighing systems.
Please call RVS on 01453 899 131 to discuss your individual requirements or visit www.refusevehiclesolutions.co.uk to view our stock of vehicles.