Test Your Skills With Our RCV Driving Challenge At PAWRS - Win A Kindle Fire!
Come to stand M35 at PAWRS this year and take part in our exciting RCV driving challenge.

You are invited to drive our brand new custom-made remote control RCV, with fully operating bin-lift, around a specially designed circuit in return for a small donation to Cancer Research. The person who completes the circuit in the quickest time will receive a Kindle Fire as a prize.

The 70cm x 23 cm remote control vehicle is based on a Olympus 6x4 Dennis Eagle cab and features a functioning Beta 2 bin-lift. Dennis Eagle has already begun the fundraising with a generous donation. And if you can't make it to the show don't worry we are hosting a similar challenge at the RWM show later in the year.



We are bringing three 'versions' of the same vehicle to the
show to demonstrate how we transform used vehicles. An untouched Dennis Elite 2 will stand alongside an RVS quality used Dennis Elite 2 and a brand new Dennis Elite 2 chassis with a re-manufactured Phoenix 2 body. We are also sponsoring the Municipal Vehicle Rental Company of
The Year Award at this year's show. See you at PAWRS!

Click here for full story ...

Nordic Recycling Replaces Hire Fleet With RVS Trucks


Our latest customer is one of the UK's largest independent waste management companies, Nordic Recycling. About four years ago Nordic brought its waste collection operation in-house using hire vehicles, until now that is…

When they recently approached us looking for three identical vehicles – 26t rear steer Mercedes Econic with Heil Powerlink body and brand new Zoeller trade bin lift – we jumped into action.

Sean Spoors, General Manager, Nordic Recycling said: "We have found hiring vehicles to be an unreliable solution so we took the decision to operate our own fleet. We looked at buying new vehicles but didn't want that level of capital expenditure, so we investigated the second hand market place and RVS were recommended to us time and again.

"When we visited RVS we liked what we saw and compared to the other providers we spoke to, they were much more professional and responsive."

8 weeks on and we have already delivered the first vehicle, with the two remaining trucks to be delivered before the end of May.

Sean added: "The crew are delighted with the new vehicle and that all the vehicles will be the same. They are also relieved not to suffer vehicles that break down all the time. Our customers are also pleased that our fleet looks better and is branded
with our corporate identity."

Click here for full story ...
Contact RVS

If you need a vehicle to cover any shortfall in capacity, purchasing a re-manufactured or quality used vehicle can be a much more cost efficient solution. Call us to find out if we have any suitable vehicles in stock.




c

all:

01453 899131


email:

info@rvsl.co.uk


visit: www.refusevehiclesolutions.co.uk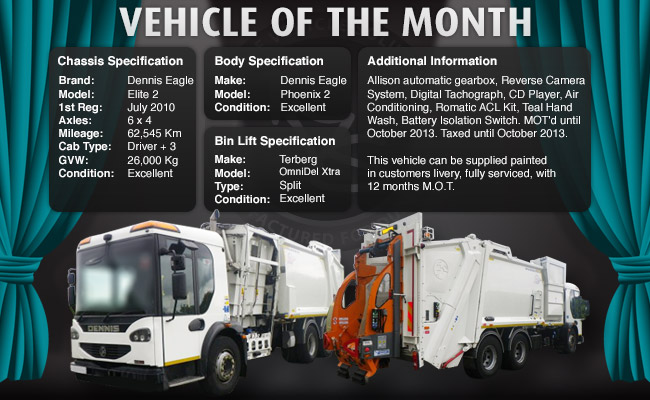 For Sale
Click images for more details
Refuse Vehicle Solutions (RVS) is the leading provider of high quality re-manufactured refuse vehicles to local authorities and the private sector. From full or partial body re-manufacturing to the provision of a complete vehicle, RVS can source any make or model of refuse vehicle. RVS stocks a comprehensive range of new and quality used spare parts, as well as vehicle safety equipment, lighting and on-board weighing systems.
Please call RVS on 01453 899 131 to discuss your individual requirements or visit www.refusevehiclesolutions.co.uk to view our stock of vehicles.